28 – 29 September 2019 – Frecce Tricolori on lake Como
28 – 29 September 2019– Frecce Tricolori on lake Como
In the setting of  lake Como, between Varenna, Bellagio, Menaggio and Tremezzina,  Saturday 28th and Sunday 29th September will take place the event "Centro Lago di Como Air Show".
The extraordinary "Frecce Tricolori" will fly over the lake for a show do not missed.
The Program:
Saturday 28th from 10:30 am to 12 pm the air acrobats and the Frecce Tricolori pilots will be tested.
The show will take place on Sunday 29th September:
It will begin at 10:30 am with pilots performance of small CAP 231 and CAP 231 DS, the exhibition of rescue water of the Sar Search and Rescue helicopter of 15th storm of AM in Cervia and the splash down of seaplanes of the Como Aeroclub. Between 12 pm and 12:30 pm The Frecce Tricolori will perform for about 20 minutes, in which the pilots will enchant the pubblic with exciting flights and breathtaking acrobatics that will end with a colored sky of green, white and red, our national colors.
All to admire the exceptional show that come back on Lake Como after nine years.
The Frecce Tricolori:
The Frecce Tricolori known as "la Pattuglia Acrobatica Nazionale (P.A.N.). It is the aerobatic demonstration team of the Italian Air Force. It is the world's largest acrobatics patrol. It consists of ten aircrafts that fly in formation and perform spectacular acrobatics in the skies around the world between May and November.
The Frecce Tricolori express magnificent capabilities and technology of our country and of Italian Air Force. The best 10 pilots, chosen after a careful selection among a large number of candidates with less than 30 years age, with more than 1000 flights hours, skilled, well-balanced and trained, they fly on MB-339 PAN aircrafts from Aermacchi, they can be used for operational activities in case of need: in the anti-helicopter, anti – tank and tactical support roles.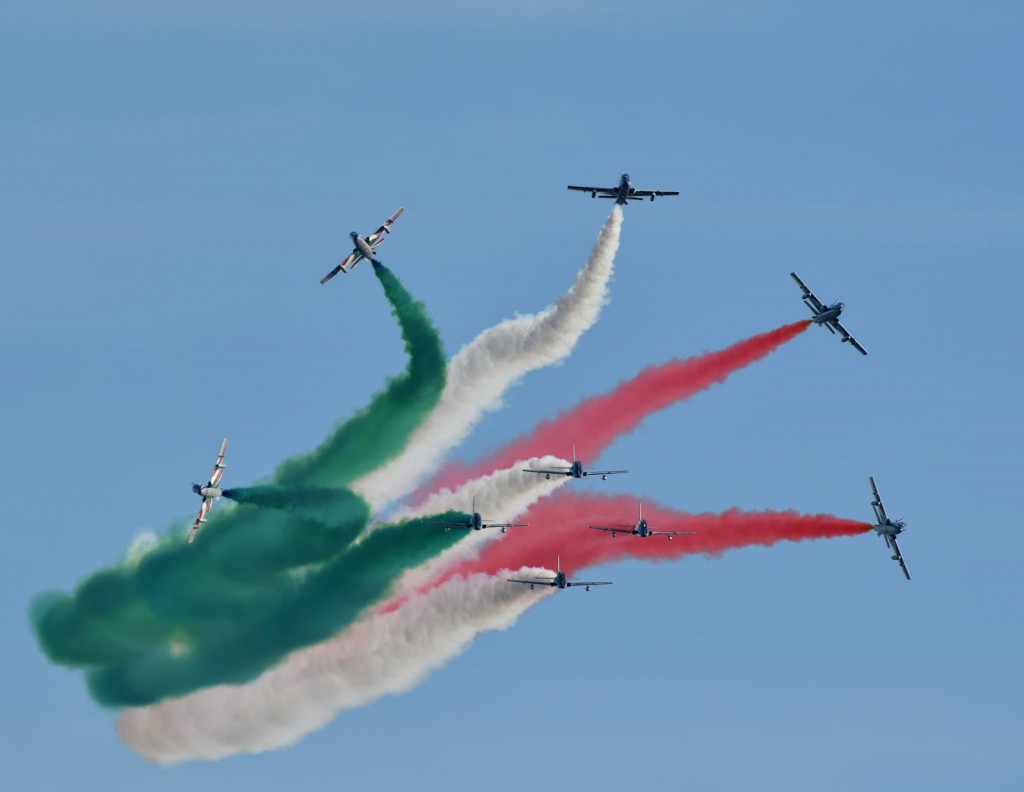 Where do you see this show better?
The whole coast of the lake between Varenna, Bellagio, Menaggio and tremezzina
Panoramic points halfway up the coast
Boat/ motorboat
Our advice
28 – 29 September 2019 The Frecce Tricolori on Lake Como.
This event always attracts a lot of people, so for this reason it is better to reach the place to see the show in advance. Concerning the traffic, the lake streets are famous for the queue…
Be patient!