Pesa Vegia tradition between sacred and profane – Bellano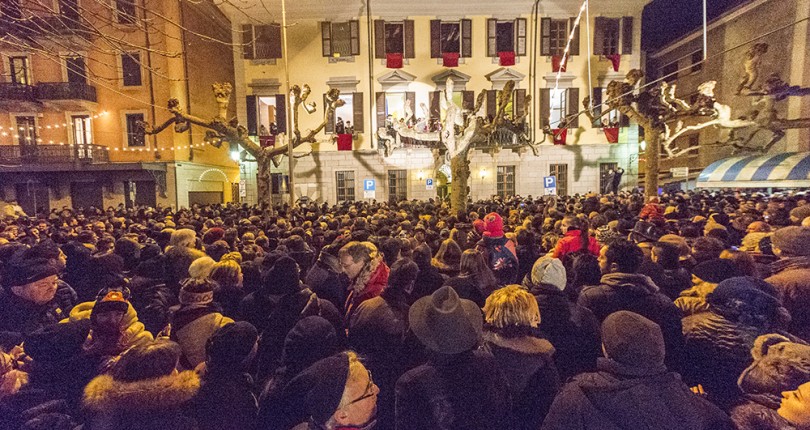 Pesa Vegia tradition between sacred and profane – Bellano
" Pesa Vegia"(the old scale) is celebrated during the Christmas holidays. It is an event of 4 centuries of history and re-enacted for visitors on January 5th in Bellano.
The legend
The legend tells about the Governor Count Fuentes issued a new "grida" (law) about "pesa nova" (new scale) the new unit of measure, but the merchants considered it a disaster.
The citizens complained to the Governor about it, asking to void the new scales and reinstating the old scales., the Governor accepted their requests ,showing his magnanimity, and started out for this town, in the Lario zone, at the head of the delegation.
The people awaited the result of the expedition. The time passed and the women and men were worried. At certain point the Bellaniesi heard a lapping sound and when they saw the boat, shouted from the banks "Pesa vegia" or "Pesa nova"? The reply was "Pesa Vegia" everyone showed a great joy for this good news.
The tradition
Every year this event is celebrated in Bellano, renewing the tradition.
If you have a chance to go to Bellano, in this day, you have the opportunity to assist at the staged of: the Governor that reads the edict from the balcony of the Municipality. The race of the scale, through the streets of Bellano. The living nativity scene, the castle of King Herod and much more: all of these give life to that event where sacred and profane become one indissolubly element from the name "Pesa Vegia".
Information: www.lagodicomo.com; www.comune.bellano.ic.it
Sources: www.lagodicomo.com; www.comune.bellano.ic.it